This use case supports the Hellenic Statistical Authority (ELSTAT) to obtain statistics on key air pollutants at the level of local administrative units.
This is of particular importance to Greece as several cities currently lack the ability to monitor important measures of air quality, (PM2.5, PM10, NO2, and O3) at with currently available statistics being aggregated over large regions.
Air quality will be monitored by fusing a range of sources, including Sentinel 5P, the PANACEA sensor network, and the CAMS Regional Reanalysis Model, then making them available in a GIS environment to provide information on annual averages (aggregated by hourly or daily values) and on exceedance of target values.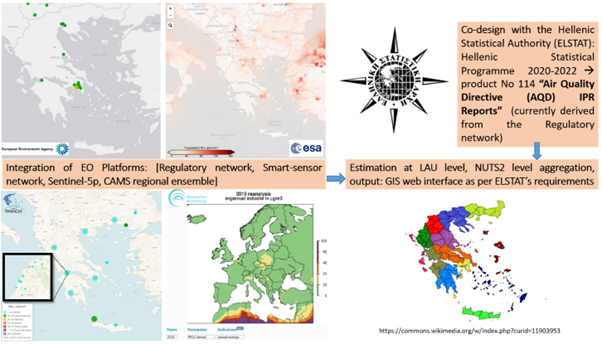 This example showcases how Earth Observation data can be combined with low-cost sensor networks to provide a key product of direct use to National Statistical Agency and to Policy Makers.
As an assessment of transferability, the project team will also investigate deploying the service in Poland.
The use case is led by the National Observatory of Athens in collaboration with ELSTAT. For more information please contact the project team at the email above.